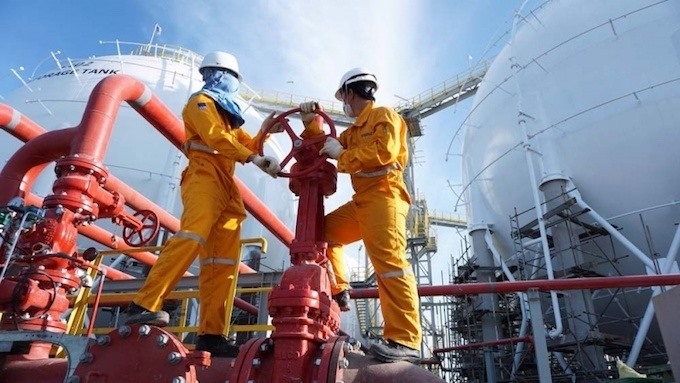 In the latter half of this year, GAS expected global oil prices to remain high compared to its plan, which will support the company's main business. — Photo ven.vn
Viet Nam News
HÀ NỘI — PV Gas reported better-than-expected business results for the first six months of the year.
Total revenue reached over VNĐ37 trillion (US$1.6 billion) while net profit was VNĐ5.32 trillion ($231.4 million), up 12 per cent and 30 per cent, respectively, against the same period last year.
With these results, the company has completed 66 per cent of its revenue target and 83 per cent of its profit target set for the whole year.
The operating profit margin, which measures how efficiently a company is at generating profits from its revenue, reached 14 per cent.
The company paid VNĐ2.53 trillion to the State budget, equivalent to 87 per cent of its yearly plan and up 21 per cent year-on-year.
Up until June, total assets hit nearly VNĐ66.2 trillion and owner's equity reached VNĐ45.8 trillion.
In the latter half of this year, GAS expected global oil prices to remain high compared to its plan, which will support the company's main business. However, the ability to supply gas for power generation may be low and unstable due to the extended rainy season and maintenance work.
The company projected to earn VNĐ25.74 trillion in revenue and VNĐ3.05 trillion in net profit in the last six months, lifting total revenue to VNĐ62.76 trillion and net profit to VNĐ8.37 trillion for the whole year, up 13 per cent and 30 per cent against the annual targets.
Shares of the company rose 6.5 per cent for two sessions after the news before falling 1.8 per cent on July 20. — VNS
Nguồn: vietnamnews.vn