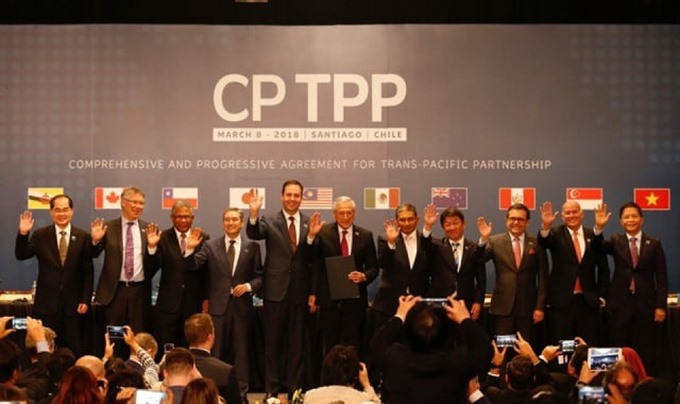 The CPTPP signing ceremony in Santiago, Chile on March 8, 2018. — Photo tgvn.com.vn
Viet Nam News
HÀ NỘI — The Ministry of Industry and Trade is preparing necessary documents to submit the Comprehensive and Progressive Agreement for Trans Pacific Partnership (CPTPP) to the National Assembly for approval by the end of this year.
This information was provided by Vietnamese Foreign Ministry's spokeswoman Lê Thị Thu Hằng during the regular press conference held by the Ministry of Foreign Affairs on July 19.
CPTPP, also known as TPP11, is an open free trade agreement (FTA) whereby countries can join the CPTPP after the agreement enters into force on the basis of accepting its standards and agreement by the member countries.
The trade pact was signed in March 8 this year after a decade of negotiations and turbulence after the withdrawal of the United States. The 11 signatories include Australia, Brunei, Canada, Chile, Japan, Malaysia, Mexico, New Zealand, Peru, Singapore and Việt Nam.
The CPTPP will come into effect 60 days after at least six member countries have completed the approval procedures.
Three countries have ratified the agreement as of July 18, including Mexico, Japan and the latest Singapore.
Hằng said that Việt Nam and other member countries are carrying out procedures to ratify the agreement in accordance with the laws of each country, expecting to put the deal into operation soon.
The implementation of the agreement will help promote economic cooperation between member countries as well as contribute to regional integration, Hằng said.
The CPTPP is one of the largest free trade agreements in the world, covering about 14 per cent of global GDP and involving the livelihoods of 500 million people. It is estimated the net benefit of CPTPP to all its members from liberalisation of trade in goods and services is roughly 0.3 per cent of their combined GDP, or US$37.3 billion, in the medium term. — VNS
Nguồn: vietnamnews.vn